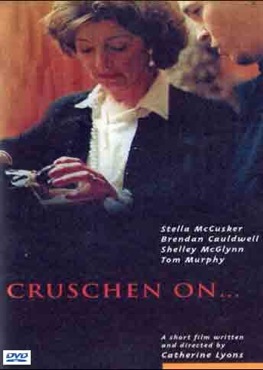 Cruschen On…
This is a story about life, love and a secret which kills one relationship, but gives life to others.
Set in Dublin's inner-city, the story presents a family of undertakers whose relationships both inside the immediate family and beyond are severely tested by events.
'Cruschen On' is the cant (Irish Traveller language) for 'moving on' or 'going on'. It refers to both the 'moving on' experienced by Irish travellers (either voluntarily or forcibly), as well as psychologically moving on, to a new and better life.
Written and directed by Catherine Lyons (Harry Clarke, Frederick Douglass).
Writer/Director: Catherine Lyons (camel productions) Producer: Catherine Lyons/Sonia Thornton Camera: Daragh Pounch Editor: Susan Talbot/Anne O'Leary Music: John J Doherty/Cyril Dunnion/Paul Flanagan
starring: Stella McCusker/Brendan Cauldwell/Tom Murphy/Shelley McGlynn/Michael Collins/Janet Moran