The Show Must Go On (James Joyce)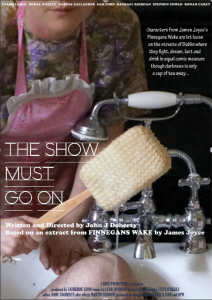 The Show Must Go On (James Joyce)
The Show Must Go On (James Joyce) – Characters from James Joyce's novel Finnegans Wake are let loose on the streets of Dublin where they fight, dream, lust and drink in equal comic measure though darkness is only a cup of tea away…
Writer/Director: John J Doherty Producer: Catherine Lyons Camera: Steve O'Reilly Editor: John J Doherty Music: Cyril Dunnion
a camel production in association with: UNESCO / BAM / OPW

The Show Must Go On
(from James Joyce's FINNEGANS WAKE)

The Show Must Go On is a short film celebrating the 75th anniversary of the publication of James Joyce's 'difficult' novel Finnegans Wake. A humorous and dramatic excerpt where the characters in the book are about to put on a play entitled 'The Mime of Mick, Nick and the Maggies' but reality and fiction are constantly overlapping. The morphed characters pop up like ghosts with the effect of bringing the Dublin of James Joyce's time, the Dublin of James Joyce's imagination and the Dublin of today together in a lavish dreamscape that allows the viewer in – despite any thoughts of how 'difficult' the novel is considered to be.
Finnegans Wake – The Novel
Irish writer James Joyce wrote the novel Finnegans Wake in Paris between the years 1922 and 1939 when it was published. It is considered his most experimental work (outdoing his previous novel Ulysses in this department) as well as one of the most difficult works of fiction in the English language. The book begins and ends mid-sentence which creates a cyclical form to the narrative which is reflected in the film The Show Must Go On. Leading Joycean Anthony Burgess described the novel as "a great comic vision, one of the few books of the world that can make us laugh aloud on nearly every page" hopefully this film echoes that sentiment as well as taking the viewer on a very Joycean tour of the city of Dublin.
The Show Must Go On at